When the going gets sweaty, permeability is the magic fix you need.
You hear terms like breathable and air permeable when it comes to technical waterproof fabrics, but do you really know what those things mean? And what they do? And why you need those qualities in ski outerwear? 
Here at Flylow, we're self-described nerds when it comes to technical fabrics. When we can't find the perfect existing fabric for a specific product we're designing, we've often been known to get to work building our own proprietary fabrics. The Perm, by Intuitive Fabrics, is one such example. It's one of the most air permeable fabrics in our line and we use it on products designed for backcountry skiing, where uphill ascents can lead to sweaty skintracks and you need layers that work for you, not against you. You'll find the Perm in pieces like our Kane Jacket and Smythe Bib.
We talked to Flylow's Senior Director of Product Chris Blum about fart fans, trumpets, and Japanese mills. Here's what you need to know about air permeability, in his words.
Breathable doesn't mean air permeable. Air permeability actually moves air out. Breathability just moves moisture. It has to actively turn on.
Watch Now: The Difference Between Vapor Permeable Membranes and Air Permeable Membranes 
In traditional waterproof-breathable garments, you have to work up a sweat on the inside for moisture vapor to go anywhere. The reason for that is physics—you've got to create two different climates. Moisture vapor has to move from a warm climate to a cold one. So ultimately, you've got to build up a sweat before that moisture can be released. That means potentially wetting out your base layer, which can be a big problem in the backcountry.
But with an air permeable fabric like the Perm or eVent DV Expedition (the two air perm fabrics we use) the membrane is designed to allow air to flow freely from the inside to the outside of the jacket or pant. Instead of just moving moisture because you've created two different climate zones, you're instead moving air through the jacket. You don't have to heat up first in order for the fabric to do its job.
I'm into air permeability because it's something that works right away. 
One thing to remember with an air permeable fabric is you may have to layer a bit more or choose a heavier midlayer. You might feel a little less warm initially, but once you get accustomed to the layer, you'll feel how much drier you are. Traditional waterproof breathable fabrics have this greenhouse feeling, where the moisture or humidity acts like a greenhouse, so it feels a little warmer when you go into it. But then your baselayer starts to wet out, and you feel cold.
You'll get people who say, If the jacket is letting air through, then am I going to be cold? Am I going to feel that air come through? I say, it's diffused. Think about blowing through a trumpet. By the time the air has gone through the trumpet to the other side, it's slowed down the velocity. So, it's not like you're opening up the pores in the jacket and getting tons of airflow in. You're just feeling a little cooler.
Not wearing an air permeable fabric on the skintrack? The main thing you'll notice is that your base layer will feel damp. You'll need to maximize the performance utilization of your base layer. If you were to get an air perm membrane on your outer layer, your base layer wouldn't have to work as hard. It would feel drier.
Another nice thing about air permeability is it lets you de-layer less. If you're skinning and it's getting windy and you're like, I'd love to put on my shell, but I know I'll work up a sweat, that's where an air permeable shell can come in. You'll get to that windy summit and you can stay in that shell and be protected.
Watch Now: The Real Science Behind The Perm Fabric
Fun fact. We can control the level of air permeability. It's measured in cubic feet per minute. The only way you'd know about CFM is if you bought a fart fan for your bathroom—that's really the only other time you'd care about air moving through something. 
eVent basically pioneered the space of air permeability. Others have joined in, like Polartec's NeoShell. For now, we're using eVent and the Perm for our air permeable fabrics.
The Perm fabric that we're currently using on the Kane Jacket and Smythe Bib is exclusive to Flylow. It's made out of Japan and we work closely with the Japanese mill that's creating it. When I think about Japanese mills, I think about high quality and controlled quality. We're able to work with their engineers on specifications and performance that gets down to nitty-gritty details.
We try to first come up with a product idea, then find a fabric that fits.
If we're building a Z line product, then we're looking for an air permeable piece. You might specify the fabric weight you want to work in, the range and air permeability you're looking for. If it's an insulated product, we would want to add a higher level of permeability than if it were non insulated.
Explore Our Men's Air Permeable Gear Designed For Touring
Kane Jacket
---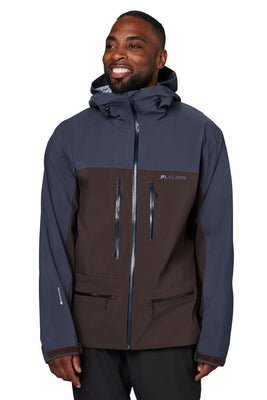 A lightweight touring shell with ample stretch and air permeability.
Buy Now
Smythe Bib
---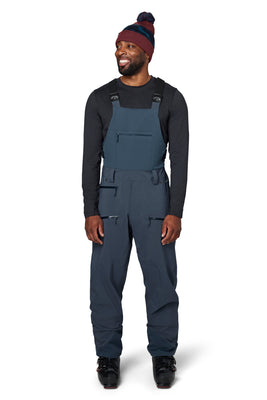 Our lightest weight bib pant, the Smythe is built for bagging peaks without overheating.
Buy Now
Explore Our Women's Air Permeable Gear Designed For Touring