Should you get a bib or pants? Maybe you don't have to choose.
It's always a quandary: Wear bibs skiing for the extra protection, ample pockets, and spacious fit, or opt for regular ski pants to keep things simple? With our new Compound Bib for men, we wanted to eliminate that choice. Now you can have it all.
"Flylow attempts to end the pants versus bib debate once and for all with the Compound Bib: a two-in-one trouser that pairs bombproof materials and freeriding style with a removable softshell bib, " writes Backcountry Magazine in a review of the Compound Bib. We couldn't have said it better ourselves.
Backcountry Magazine reviewed the Compound Bib in their 2022 Gear Guide, where skiers put the bib to the test while skiing the whole season in Vermont's tight glades, noting that the eVent fabric held up through it all.
"Reinforced cuffs and tough-faced fabric make these a true long-term buy for even the grungiest ski bum," said a Tahoe-based freeride coach in the review.
Other features that were loved by testers: easy-access pockets, cross-flow leg venting for cooling down on a climb, and articulated knees for ease of movement. "Both testers buzzed about the oft-forgotten rear pocket for stashing a wallet in addition to hand-warmer pockets on the thighs and the removable bib," says the review.
Both testers ended up wearing the pants without the bib top, but of course, that choice is up to you.
Compound Bib
---
This is the transformer of ski pants: Wear it as a bib when you want extra coverage or as regular pants when you don't.
Buy Now
Pierogi Hoody
---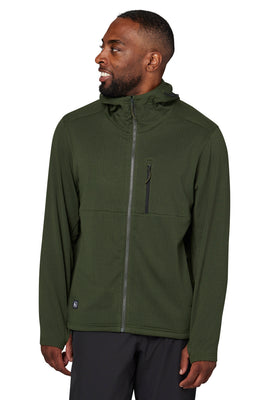 Just like the doughy dumpling they're named after, this midlayer is warm but lets off steam.
Buy Now
Tough Guy Glove
---
A leather ski patrol style glove that's pre-treated with DWR.
Buy Now