For women who ride bikes, you need apparel that's made just for you. Look no further.
Here's the deal: Riding a mountain bike doesn't require some special uniform. You could throw on whatever moisture-wicking T-shirt and stretchy shorts you have in your dresser and go for a pedal. But if you want to get the most out of your ride, wearing clothes designed for biking can make a big difference.
Women's mountain bike apparel has subtle but noticeable touches, like the back of the jersey that extends long so you can lean toward your handlebars without sunburning your lower back. Or the durable, highly breathable shorts that hit at just the right spot above your knees to maximize mobility in the saddle. Or the button-up top with the zippered pouch for stashing a quick Gu on the go.
Here, we break down the best women's mountain apparel Flylow makes—the mountain bike shorts, jerseys, pants, and other essentials (like gloves and windbreakers!)—that you'll wear every time you head to the trailhead. These items are designed for and tested by female mountain bikers, proven to last mile after mile.
Women's Mountain Bike Shorts
We're starting here, because let's be honest: The shorts you wear while mountain biking can make or break your ride. Wear shorts that are too tight or too baggy; too long or too short; and you'll want to call it quits early. Wear the right shorts—ones that are comfortable, breathable, and that you can wear well after your ride is over—and you'll want to stay out all day.
Flylow's women's Tia Short is a well-loved favorite amongst our team. Made from a light, stretchy nylon fabric, this is the ultimate cross-country short. You can sweat it out on a big climb comfortably and bomb a fast descent will plenty of coverage. With a PFC-free Durable Water Repellent finish, it's also got enough water resiliency to handle a surprise drizzle or extra deep puddles.
You can pair the Tia Short with our Women's Cru Liner in the Tia 2 in 1 Short. That gets you the long-lasting shorts, plus the removable liner chamois with Italian-made fabrics and enough padding to last hours in the saddle. Some people are opting to ride without a chamois these days. That's your call, of course, but at least the Tia 2 in 1 gives you options. You can also just get the Women's Cru Liner and pair it with any of your favorite mountain bike shorts.
For a more downhill-centric short or for women who want more protection, the Eleanor Short is another great choice for women's mountain bike shorts. It's made from a super resilient fabric that can take a beating from the elements and has a long, freeride fit, adjustable waist, and pockets just where you need them. This short fits well with kneepads.
The Flylow Sundown Short is a surprise hit on a mountain bike. It's really a versatile summertime women's short—you can wear it hiking, paddleboarding, or out and about—but it's roomy enough to wear a chamois under for mountain biking, too. If you prefer to ride with a short that's got a more streamlined, slim fit or you're traveling and just want to bring one pair of shorts to do everything in, the Sundown is an excellent choice.
Getting serious on your bike? We make a short for that, too. As mountain biker Rose Grant says, "When I'm in spandex, it's all business. When I'm in baggy shorts, I'm out to have some fun." The Women's XC Race Bibs is the spandex she's talking about—an all-business, race-ready kit for gravel rides, long cross-country rides, or starting lines.
Women's Mountain Bike Jerseys
What you wear on top while mountain biking depends on your style of riding, the weather, what kind of ride you're going on. All of our tops and jerseys work great on a bike, but some were designed specifically for mountain biking, with features and fabrics built for singletrack pursuits.
The Hawkins Shirt is a women's mountain bike jersey that's got a little extra coverage just where you need it: a three-quarter-length sleeve for protection from sun and scratches, and a length that hits just right for your position in the saddle. Since we know sometimes you're going on a few rides before laundry day, we added an antimicrobial treatment to fight stink before it starts.
For hot days and long rides, you can't beat the trusty Jessie Shirt, a women's active tee made for mountain biking, running, and wherever else the road takes you. It's light and breathable, with stretch for mobility and 50+ UPF for sun protection.
Want a little something extra? Check out the Phoenix Shirt, a snazzy, collared button-up shirt that doubles as a technical mountain bike jersey for women. It's got a zippered pocket on the back, breezy, stretchy fabric, and snap buttons for easy on and off, even with a helmet on. The women's Aster Shirt fits in that same category: It's a pullover tunic with buttons down the front and a perfectly long fit, making it a great top for mountain biking, too.
Going for a high-output gravel or road bike ride or signing up for a mountain bike race? We also make a Women's XC Race Top that's got a full-length zipper, race-ready fabric (that means it's extra fast), and a spacious back pocket for supplies.
Women's Mountain Bike Pants
We make just one mountain bike pant, but it's a real keeper: Introducing the women's Tia Pant, a full-coverage riding pant for colder days, burlier rides, or those trails where you need to keep out things like poison oak, stinging nettles, or ticks. (Hey, nobody said mountain biking wasn't without its consequences.) The Tia Pant is made from the similar durable fabric as our Tia Short but in a long, stretchy fit with tapered ankles and a custom-fitting waist.
Women's Mountain Bike Long-Sleeved Shirts and Jackets
On days with colder temperatures or windy summits, or for rides when you need extra protection from the sun or other elements, a long-sleeved jersey or lightweight windbreaker can be just the solution. The women's Honey Henley has full-length raglan sleeves, a breathable fabric, and good style on the bike.
We love the Moonlight Shirt literally all year long and for a wide variety of pursuits. This is a spring ski touring top, a fall trail running layer, a paddleboarding sun shirt, and yes, a long-sleeved mountain bike jersey. It's made from light, wispy fabric so you won't overheat and the hood and thumb loops give your skin extra coverage from the sun.
Then, there's the Davis Jacket, a unisex windbreaker that's saved us many a times on cold descents and windy ridgelines. Throw this in your pack as a packable emergency layer or wear it on chilly mornings from the trailheads. Because this is a unisex piece, women should size down from their standard sizing—so if you typically wear a women's large, opt for a medium in the Davis Jacket, and so on.
Mountain Bike Gloves
Your kit isn't complete just yet. Mountain bikers need gloves. And the Flylow Dirt Glove is literally one of our top-selling items in our entire summer collection. These lightweight mountain biking gloves are easy to get on and off, fit just right, and they won't cause sweaty palms on a hot ride.
Dirt Glove
---
The Dirt Glove is an all-purpose mountain bike glove that's light and quick-drying. A leather strip on the knuckles defends against falls, while both the index finger and thumb have touchscreen capabilities for swapping songs or checking the map mid-ride. The gloves go on and off easily, thanks to a Velcro closure at the wrist so you can set it and forget it. Dirt mustache? Wipe it off with the soft fabric on the back of the thumb.
Buy Now
Tia Pant
---
Full-coverage women's pants for mountain bikers that do double duty as a durable, everyday jogger.
Buy Now
Eleanor Short
---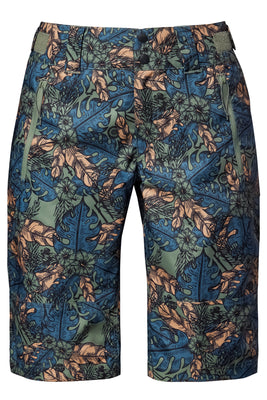 Paired with a chamois, the flattering Eleanor Short is a tour de force mountain biking short.
Buy Now