Plus, don't you think we should make a designated pant pocket for pocket bacon?
"I like bibs," writes Ryan Ariano, a product tester and reviewer at Mountain Weekly News. "They don't fall down, they give you an extra break pocket, and they really keep the snow out. Though sometimes I like pants, especially on a tour when maybe I had a gut bomb the night before, or I'm lapping the resort and might be doing some apres. The Compound is the one-stop shop because it has both."
He's talking about the Flylow Compound Bib, a two-in-one that is both bib and pant (or shall we say bant, or pib? No, we shall not). In a detailed review of the Compound Bib, Ariano takes a hard look at the pant (or bib, or whatever you want to call it) and its fabric, features, and overall functionality.
"Bibs are super warm and convenient but can be annoying at times; pants are great especially for resort riding but aren't as warm, don't keep snow out as well, and don't have as many pocket options," he writes. "The Flylow Compound Bib is both, wrapped up in the highest-of-tech waterproof membranes and all sorts of other game-changing textiles while carrying on Flylow's tradition of dominating the snow outerwear style competition."
Well, gee. Thanks, Ryan. We're blushing now. We're also super impressed with your level of testing. I mean, he bootpacked, he skied pow, he scraped rocks, he grilled brats with his kid—all while wearing the Compound Bib. That is a thoroughness we appreciate. He said he tested a few bibs early-season and the Compound Bibs were "hands-down the most waterproof."
He also gave us a great idea, all thanks to a typo. "Since these are seriously backcountry specific, though, Flylow's Compound Bib has a bunch of other details to keep you safe exploring out of bounds," Ariano writes. "Like a bacon loop inside the thigh pocket since there is a big movement by guides to wear their beacons in a welded pant pocket." I think he means a beacon loop, but that has us thinking: designated pocket bacon pocket, anyone?
In all seriousness, though, we always appreciate the feedback. "Of the countless bibs I've tried, few could compete with the Flylow Bibs for waterproof breathability. I don't know if any can compete with these for durability. None can compete with these for snow sport brand cred. And I have yet to try any that function both as a bib and, with the slip of a zipper, a pant." Read the full review here.
Kane Jacket
---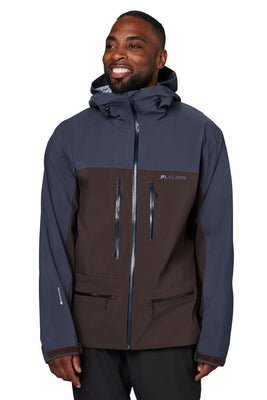 A lightweight touring shell with ample stretch and air permeability.
Buy Now
Compound Bib
---
This is the transformer of ski pants: Wear it as a bib when you want extra coverage or as regular pants when you don't.
Buy Now
Micah Fleece
---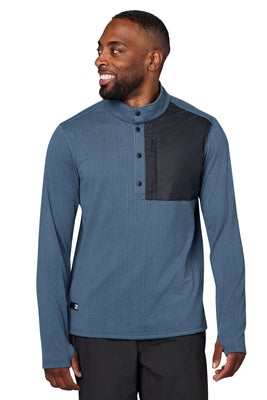 Midlayers with hoods can sometimes feel bulky. So, we made a hoodless, technical fleece inspired by the classic ski sweater of yesteryear.
Buy Now