Our Newest Mountain Bike Shirt Named one of the affordable MTB shirts of the summer.
Sure, Flylow started out as a ski brand, but in the summer, you'll find us on our mountain bikes. Which is why a few years back, we started making clothes built for mountain bikers, too. Because that's what we needed—and we figured others might, too.
Powder Magazine recently covered a roundup of affordable mountain bike gear and accessories from ski-industry brands, including Flylow. Writer Erme Catino called our Garrett Shirt durable, quick-drying, and ideal for summer trail riding. Here's what else he had to say:
"The Garrett shirt from Flylow adds some technical steeze to your mountain bike kit. Women, check out the Flylow Jessi shirt for a similar option. The Garrett fits a little looser than a technical t-shirt for trail running. Constructed with two types of mesh panels that blend polyester and spandex it had exceptional breathability and airflow on hot rides, and felt like I was in front of the air conditioner as the wind blew."
It's also durable, feeling a bit more like a lightweight bike jersey, as the spandex elements provided a good range of uninhibited movement. It's ideal for summer trail riding – drying quickly from sweat or after tossing cold water on your head (a routine for me after a summer ride). It's also treated with Polygiene to avoid the summer sweat stench—allowing you to wear it a few times before each wash, making it perfect for camping bike trips."
Check out our full trail collection for men and women.
Check Out The Garrett Shirt
Garrett Shirt
---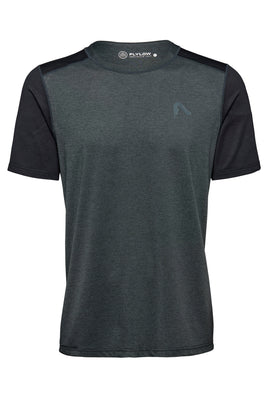 For mountain biking, you need a short-sleeve tech T built for active use. The Garrett Shirt is that and more.
Buy Now
Mountain Bike Gear That Pairs Well With The Garrett Shirt
Goodson Short
---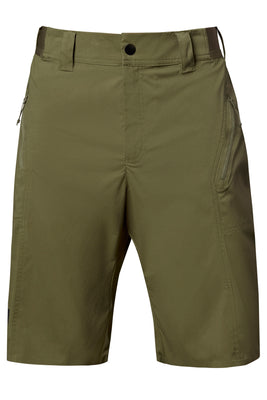 The sturdy Goodson Short is a light and tough mountain biking short with just the right amount of stretch.
Buy Now
Davis Jacket
---
The Davis Jacket is a durable, lightweight, breathable windbreaker built for mountain biking and other windy moments.
Buy Now
Pickup Tee
---
If you like bikes and/or old trucks, this is the shirt for you.
Buy Now