Testers loved this summer's new Trailworks Pant, Royal Shirt, and Phoenix Shirt.
The Outside Summer Gear Guide is out now and we're honored to see a few pieces from Flylow made the cut.
The Trailworks Pant was named among the best men's travel apparel for 2022. "Flylow's Trailwork pants are a utility player: sturdy enough for physical labor and plenty stretchy for scrambling, with a slim cut that meets date-night standards," the review states. "The DWR coating kept valuables dry during an hourlong walk in the rain, while the nylon canvas fabric still breathes like cotton."
The Royal Shirt was included amongst a collection of the best men's mountain bike apparel of the year, saying, "Both high-tech and low-key, this collared snap-down fits and stretches like a jersey but doesn't make a big deal out of it. (It even blends right in with the general Outside and Beta office dress code.) This approach is nothing new; the Royal is simply a bit more evolved than other similar tops, with soft polyester-spandex fabric and a 50-plus UPF rating."
And the women's Phoenix Shirt was among the year's best women's travel apparel. "No one in town will guess this polyester-spandex snap-up collared shirt is designed for hiking, fishing, and camping," reads the review. "Sure, it dries in a flash and you can stash cash or earbuds in the rear zipper pocket. But the fun patterns and form-fitting (not restrictive) cut offers modern aesthetics that fit in around town."
Trailworks Pant
---
Workwear pants built for everyone and made to last as long as you do.
Buy Now
Royal Shirt
---
A snap-button, long-sleeved classic made with technical fabric, the Royal Shirt can be worn on any occasion.
Buy Now
Phoenix Shirt
---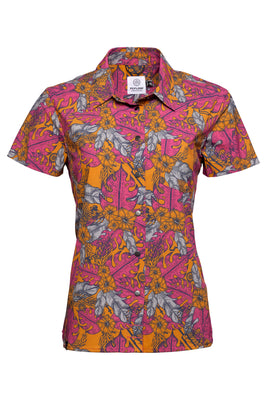 A smart, versatile women's top that doubles as a technical MTB riding shirt.
Buy Now