Getting to know Jackson Hole-based snowboarder Meg Matheson, who builds terrain parks in the winter and river guides in the summer.
Meg Matheson grew up in the Tri Cities area of eastern Washington. Her dad was a volunteer ski patroller at Mount Baker ski area and as a kid, Matheson skied a handful of days. But in her teenage years, she discovered a love for a different way of sliding down snow: snowboarding. From that moment on, snowboarding became her single-most important obsession, a passion that would dictate the direction her life would go. This winter, Matheson will be working on the Jackson Hole Park and Pipe crew and filming for a new, all-women's snowboard film, called No Bounds to Ride, which is set to debut in fall 2022. We called up Matheson, who's 24 and a Flylow athlete, after a powder day in Montana to talk about river guiding, long-lasting ski gear, and what's in her backcountry pack.
Hi, Meg. Is now a good time to talk?
Yeah, it's great. I'm just coming in from the mountain. It was a powder day at Whitefish.
Perfect. So, when did you decide to become a snowboarder?
My little brother showed me The Art of Flight. It's the most cliché story of getting into snowboarding of all time. But after watching that, I was like, that's something I want to do. I found a ski bus to take me to our closest mountain in Washington, which was Bluewood. My parents would drop me off on Saturdays at 6 a.m. starting when I was about 14 or 15.
And what happened after that?
After high school, I went to Utah State University. I rode on their equestrian team and I thought I'd become a veterinarian. But I found myself super into traveling and snowboarding. I ended up moving to Park City, Utah, and working at a ski shop. From there, I just started focusing on snowboarding in the winter and working as a river guide in the summer.
When did you get into splitboarding?
I started in the park when I was in college. I started entering local rail jams. But then I got into the backcountry when I was living in the UP in Michigan. I started touring there, to get some exercise. I'd always wanted to splitboard. Then I really got into the backcountry when I moved to Jackson. It was what everyone was doing around me. I noticed I was just following people around. I started understanding the gravity of what we were doing in the backcountry. I wanted to be able to contribute my own decision making. I needed to be able to do this on my own. So, I took my first avalanche course and got obsessed with it. Found a lot of leadership and confidence. That's the direction I'd like to take. I'm doing my companion rescue, as well as my Avy 2 certification.
What draws you to the backcountry?
I like the challenge it presents, both mentally and physically. When you're on a chairlift, you're not paying attention to your terrain as closely. I like the presence it demands and how you have to be paying attention to all these details. I like the study and preparation. It's an all-encompassing thing.
What brought you to Jackson?
I moved to Jackson in 2018. I came for the river guiding—at the time I was doing multi-day trips on the main Salmon. It was amazing, but it was hard to have a life outside of that. I wanted to live somewhere where I could have a more well-rounded life, a place where I could river guide but also put some roots down and pursue other things outside of guiding. I thought I'd be there for one season, but I fell in love with the community and the access to the mountains.
What lessons have you learned from river guiding that you can apply to your snowboarding?
There are a lot of parallels. When I started doing the multi-day trips, I got myself in a lot of tough situations. It wasn't could I do this? It was how am I going to adapt to do this hard challenge? Being put in an environment where you have to figure it out, you have to find utility has flowed into every aspect of my life, including snowboarding. That, as well as risk management.
What's your level of risk tolerance in the mountains?
Turning around is always a priority for me. I'm conservative when it comes to taking risks in the mountains. That can be hard in group dynamics. When I get into those situations, I remember it's important to make every trip a round trip. I try to separate my goals from what I'm doing because I don't want to change what I'm seeing in the mountains to fit my expectations. I don't want to cater what I'm seeing toward my end goal. I try to keep an open mind, toward all goals and outcomes.
Any specific goals or plans for 2022?
I definitely want to spend more time in Alaska. I went up there last spring to do the Bomber Traverse, and I fell in love with it. I want to move more in the guiding direction. I want to share this thing I love responsibly with other people. When I was first getting into splitboarding, I wasn't being taught by other women. It's hard to look at these men around you and compare yourself. When I started to have female role models in my life in the backcountry, I felt a lot more inspired. I hope to be that for other people as well. When you see other women in leadership roles in the outdoors, you think, if she can do it, I can do it.
What's a motto you live by?
I'm a firm believer in using gear as long as you can. I always say buy nice or buy twice. I'm not a fan of buying new stuff all the time. I think that's very bad for the environment. So, get what you need and get something that'll last. Only buy what works well.
Or fix it when it breaks, right?
Absolutely. When I was in Alaska, I had this collapsible pair of poles that broke. I used hose clamps from a hardware store to fix them. I always carry a repair kit with me. It's got ski straps, extra hardware for my splitboard equipment, Duct tape, zip ties. I can fix just about anything with those things.
What's always in your backcountry pack?
A good puffy. That's the stable. I've been wearing my Flylow Mia Jacket nonstop. And a good pair of gloves. One of the most important things I bring into the backcountry is an extra pair of gloves I don't intend to touch. When you can't use your hands, you can't get much done.
Mia Jacket
---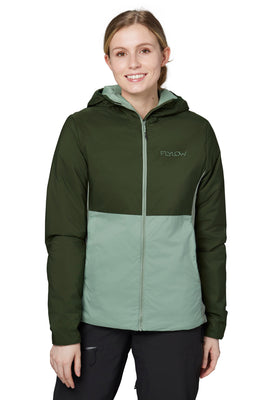 An insulating, hooded midlayer that you can wear under a shell or on its own.
Buy Now
Nina Pant
---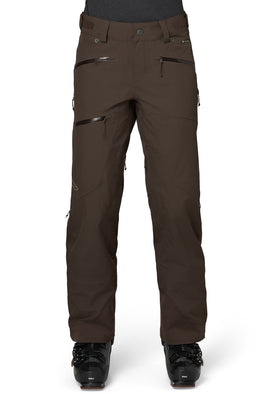 A waterproof, hardshell ski pant that fits just the way you want it to.
Buy Now
Oven Mitt
---
The Oven Mitt, a classic resilient leather mitten, comes pre-treated and insulated for storm days.
Buy Now