A new short summertime edit by Anne Cleary reminds us all to say yes and go.
We all get stuck in a rut sometimes. We're going through the daily grind, getting done what needs to get done. It's life, and it's not always a peach pie. But then, miraculously, an opportunity presents itself. Or maybe you create it yourself. Either way, it's the definition of fun, a wacky, out-of-the-way moment to remind yourself that life is wild and meant to be enjoyed. Maybe it's a bike ride with a new friend or a spontaneous lake swim. Doesn't matter what it is. In those situations, you've got to say yes and go.
That's the idea behind the new short edit, "Get in the Van," by independent outdoor filmmaker Anne Cleary, founder of Mad Trees, a production studio. Her friend was getting married in Jackson, Wyoming, so she and friends loaded their bikes into her Sportsmobile van in Washington, where she lives, and hit the road. She captured all the moments, big and small, on camera. "We were all these people, old friends still going mountain biking together after years of knowing each other and sharing common interests," Cleary says.
Those common interests? Mountain biking. Skiing. "General outdoor enthusiasm," Clearly says. 
"It's a say yes and go type scenario. Get in the van. Take life as it comes to you. Say yes to opportunities," Cleary says. "Sometimes, it's reenergizing to be around people you've known for a long time."
It doesn't have to be a big, faraway trip. It can be an outing close to home, an exploration of your backyard. "Sometimes, a change in the normal routine can give you the perspective you need to come back to your daily life a little more reenergized," Cleary says. "After a trip like that, I feel full to the brim of so many good experiences. I'm ready to sink back into the normal routine and the day to day."
Hawkins Shirt
---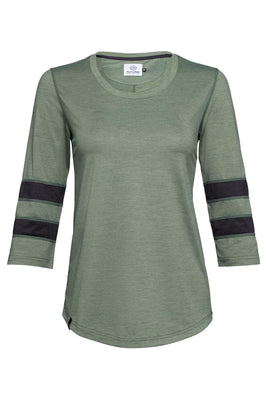 You don't need to be a fearless downhill mountain biker to love the Hawkins Shirt. Its long, protective fit, odor-fighting superpowers, and three-quarter-length sleeves are ideal no matter how you chase dust and glory.
Buy Now
Tia Pant
---
Full-coverage women's pants for mountain bikers that do double duty as a durable, everyday jogger.
Buy Now
Eleanor Short
---
Paired with a chamois, the flattering Eleanor Short is a tour de force mountain biking short.
Buy Now